Lodge Profile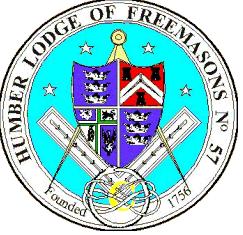 Humber Lodge No 57 is a traditional Freemasons' Lodge in the Province of Yorkshire, North and East Ridings. It meets at Dagger Lane in Hull, not far from the river after which it is named. The Lodge is proud of its long history and its reputation for maintaining high standards of ritual and ceremony. Founded in 1810 before the United Grand Lodge of England was formed, its warrant can be traced back to 1775. The Lodge uses Humber ritual.
 Whilst always striving to maintain the values and standards of Freemasonry the Lodge has adapted to the changing world to ensure it remains vibrant and sustainable and so that all of its members, young and old enjoy the privileges of the Craft.
 The Lodge meets twelve times a year on the 2nd Tuesday of the month. The Masonic year starts with the installation of the new Worshipful Master in December. Our regular meetings start at 6.30 pm except for the December Installation meeting which is earlier.  In addition, we have a Lodge of Instruction, which meets on the 3rd Monday of the month. New Lodge members are encouraged to attend these meetings when possible, to learn more about Freemasonry in general and practise ritual in a relaxed and friendly atmosphere.
 Humber Lodge encourages social activity. Events of note include our Ladies Evening in October, the Christmas Dinner Social for families and friends, and at least one other social function where all are welcome. These events are well attended.  
 The Lodge benefits from a very diverse membership. Currently our youngest member just embarking on his Masonic journey is in his twenties, and we have older experienced members representing previous decades – one is over ninety!  The Lodge has fifty subscribing members, many of them taking an active part in the Lodge. Some have been honoured with high office in both the Provincial and United Grand Lodge.
 We encourage all our members to attend the regular Lodge meetings if their situations allow, and the Almoner is always aware of those who for reasons of ill health or other matters are unable to be with us. Our team of very experienced officers encourages the younger members to take an active part in our ritual and ceremonies and help them to make steady progress in Freemasonry. The current joining fee is £75, the fee for Initiation £125 and the annual subscription (which varies according to when in the year someone joins) is £160. However, these amounts may change for the Lodge's next financial year.
 Further information about us may be found on the website humber57.org.uk which includes a Non-Mason's page and a FAQ section.
 CAVEAT
 The above profile has not considered the Covid-19 pandemic; the consequences of the crisis are likely to be far-reaching and the return of Freemasonry to "normality" may be some considerable time in the future.
 Membership may be affected; fees may change in consequence.
Eddie Wildman
 January 2022