Ladies Night
One special highlight of the Humber year is the Ladies Night. In 2019, Mrs Gail Smith, the Worshipful Master's Lady, organised a fabulous Ladies Night at Dagger Lane

, a familiar venue, as she is responsible for organising the Weddings and Social Functions there. This was a magnificent occasion: the place was full of happy people. Good food, good music, and of course, the wonderful company of the ladies, who looked terrific. I asked Gail afterwards if she would do a brief write-up of the event. Here is her reply.
 What ladies night meant to me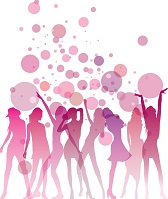 Hard work - making sure all eventualities were covered
Part time booking agency – Finding and booking two artistes
Events co-ordinator – making sure all the planning comes together
Sleepless nights – speech writing
Table dressing – Ensuring the tables were correctly dressed and looked resplendent
Shopper – shopping for ladies favours more of a labour of love for what lady doesn't like shopping
Dresser – making sure the WM who has put me through all this, looks well dressed and decent
Would I do this all again? YES, because it was rewarding to see all my efforts come to fruition and it was especially nice to see the attendees looking so beautiful and making the effort to enjoy the evening to the full and especially supporting Humber 57. It was one of my favourite nights which I shall always treasure. I would like to thank all that attended for making it such a special night so memorable. My reward, well the reward for a job well done is to have done it and done it well.
 Gail Smith
Thanks, Gail! You were magnificent!