Connaught Court
Connaught Court, Fulford, is a retirement home offering residential care, nursing care and dementia care, with the benefits of individual rooms and shared communal areas.  a number of Freemasons, and a number of Masons' wives, have enjoyed being there. It is a friendly, caring community. Situated in extensive parkland close to York City Centre, the Home was purpose-built in 1971. The grounds are beautifully landscaped and well-maintained, providing pleasant areas to sit and walk with sufficient space for disabled access. The home is supported by the Masonic Provinces of Yorkshire, North and East Riding, West Yorkshire and Lincolnshire.
Each June, the home organises an Open Day under the stewardship of one of the three Provinces, which alternate annually. Lodges throughtout the Provinces arrange stalls and other fund-raising activities, all of which is donated to Connaught Court to help in the running of the home and to provide funding for trips etc.
Humber Lodge has for a number of years put on a stall entitled 'Whisky Galore'.  The original concept was that of W. Bro. Bob Wallace, who over the years managed to raise over £3000 from bottles of whiskey donated by the Humber Brethern.
On Saturday 16th June 2011, the Provincial Grand Master of West Yorkshire officially opened the event. It was a wet, windy and altogether miserable day, and a worryingly slow start, but suddenly the event took off and much fun was had by all who attended. Great entertainment was provided by the brass band.                                                      
The stall was manned by Bro Carl Cross (Junior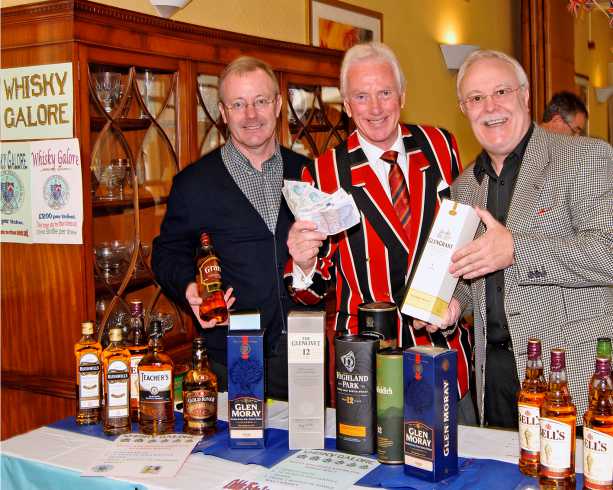 Warden) W. Bro. David Terry (Immediate Past master), who again stole the Sartorial Elegance prize sporting his Hull Grammarians Cricketing Blazer, and  Bro. Des Ashton (Assistant Director of Ceremonies) The team arrived early to secure  a  good (inside) location. Running to its tried and tested system of offering a  15  to 1 chance of winning a bottle of whisky, the stall again proved  popular.
In recent years, the Humber Mark have also held a stall at the Open Day and there has been friendly rivalry to see which of the two stalls could  raise the most money.  Humber Mark have always managed managed to  attract more custom and beat us.  Despite a valiant effort by the three Humber Craft representatives (pictured left) they were beaten into second place by the  Humber Mark contingent, who managed to raise £500+, to our  £409.  Congratulations to Humber Mark but also well done  to our intrepid threesome.
 [Above commentary by W Bro Terry Fisher]
 Here is a link (April 2021) showing what Connaught Court has to offer:
https://www.rmbi.org.uk/home/connaught-court-york/