Coronavirus page
Hi folks! For Humber Brethren without the advantage of Facebook, Skype and Twitter, if you'd like to post appropriate comments here please email them to me with any observations, thoughts etc. And what better way to start than by reproducing the photograph in the latest edition of the Yorkshire Mason (which was obviously printed before the onset of the global pandemic) showing our own Junior Warden, Bro Charles Alexander presenting a cheque to the City of Hull Street Angels Charity, which looks out for vulnerable people. A tombola held during the day raised a further £600.
In these troubled times particularly we need to turn our thoughts to others: thanks, Chasa, you're a sterling example to us all!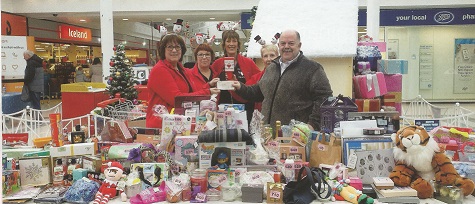 [20th March 2020]
YIPPEE! David Terry, our Almoner, has escaped incarceration in Spain! Here's his account of shut-down in Malaga!
Malaga – March 2020
Some years ago, Marion and I found ourselves in Quito, the capital of Ecuador. We had enjoyed a week sailing around and visiting some of the Galapagos Islands and were regrouping at a hotel before taking a small plane out to a lodge on the Napo River, a tributary of the Amazon.  It would be cash only in this remote location.  This was no problem as I had plenty of travellers cheques (remember them?) and four different credit and debit cards.
The local bank and all subsequent banks we visited rejected our cheques.  We couldn't understand why. The cashiers had plenty to say to us but our Spanish was limited to " dos cerveza por favor" !
Locating a bank of ATMs I tried my credit and debit cards, all of which were rejected followed by an unintelligible (to Marion and I) screen of Spanish text. I
t was at this point I started to panic and Marion uttered the words "This is ridiculous! I'm going to learn to speak Spanish". She was as good as her word and on her return to the UK started her education under the tutelage of Isobel Smedley!
There's no substitute when learning a language, I'm told, than to immerse oneself in the country itself. Frequent visits to Spain have been the order of the day since our Amazonian adventure.
Last year we spent a month in Malaga where Marion attended the Picasso Language School whilst I made an in-depth study of the local bars. I'm progressing, I can manage "una caña, por favor" or " una copa de vino tinto, por favor". Friends were made in the bars of Malaga old town so we decided to return this year and enjoy the spring sunshine, the fish platters and the rioja.
11th March 2020
We travelled to Leeds Bradford Britannia Hotel where we disinfected all surfaces; had probably the nearest thing to a school dinner I've had in years in the hotel restaurant (I'd forgotten what tinned carrots tasted like) and slept like a baby after partaking of "happy hour".
The flight, courtesy of Jet2, was full. Crowds of young people heading off to Torremolinos and Benalmadena in search of sun, sangria and whatever else was available!   There were also a few more elderly folk wanting to ease their aching joints in the UV rays of the Costas.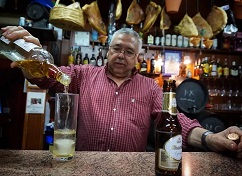 Malaga appeared fairly busy as we were chauffeured to our apartment in Malaga Old Town where we were to meet an agent who would furnish us with keys for our ground floor, one bed apartment which was to be home for the next three weeks. It had security bars on the window and no patio. No problem, we were there to enjoy the fresh air, sunshine, walks by the sea and being spoiled in the restaurants and bars.  This we did for the next thirty-six hours.  Then on the Sunday afternoon all bars and restaurants were told they must close at the end of play that day. All but essential travel was curtailed and folk were told to self-isolate.
The trip to the small local supermarket was the highlight of the day, walking 2 metres apart for three minutes, me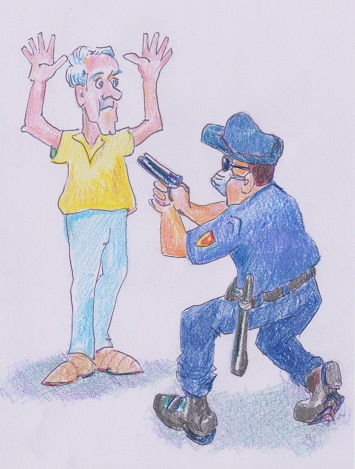 hanging around on the street corner whilst Marion was held in a small, organised queue awaiting her turn to be let into the shop.  Shelves were reasonably well stocked and there was no panic buying.
The ubiquitous police presence may have something to do with the good behaviour of the Spanish folk?
We ate some interesting concoctions, prepared on the halogen hob and microwave and washed it down with wine or beer.
We read the books we had bought at the airport and watched CNN, Sky News and some Malaga TV. The latter made me realise what a good job the BBC and ITV do.
The police drove past the window of our apartment on a regular basis, stopping people who were out and about and enquiring as to the reason for their journey. Hefty fines could be issued.
The realisation dawned that we should return home as soon as was possible. Jet 2 sent a text stating that our return flight which was 1st April (back in time for Humber Chapter Installation) was cancelled and gave us the comfort that we would be reimbursed at some stage during the next 28 days.
They had put on repatriation flights on Wednesday 18th and Thursday 19th March. I followed the link and discovered that we could both have seats on the plane if we parted with 855 euros each! 
Wifi in an apartment is essential these days and Marion was able to book a flight on Friday 20th with Ryanair who were not profiteering to the same extent.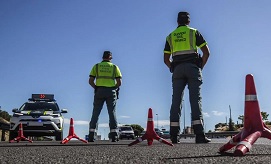 The day of departure came and we ate the food left in our fridge and waited for our taxi to take us to the airport. We waited and began to panic; made phone calls to discover our driver had been stopped by the police who had set up a roadblock. He arrived, full of apologies, half an hour late. Never mind, plenty of time to get checked in. We hadn't bargained on the roadblock on the main road heading out of town. All traffic was at a standstill. Fortunately our driver was a local who knew the back streets and we arrived at the airport in time to be checked in for the Ryanair flight.
It was interesting looking at the variety of homemade face masks that had been constructed by my fellow passengers. Mine consisted of a freshly laundered handkerchief tied around my mouth and nose in the manner I used to when I played cops and robbers as a child. Marion looked elegant with a scarf draped carefully around her neck, mouth and nose.
The flight home was only two thirds full so we were able to isolate ourselves somewhat but there was a collective flinch throughout the passengers when someone coughed. Congratulations must go to the cabin staff, who, although wearing masks, dealt with their charges in a most efficient and caring manner.
The taxi journey from Leeds Bradford Airport to The Britannia Hotel, where I had left my car, was relaxed. No lock down in the UK. Okay there had been some panic buying of toilet rolls but so what?
We arrived home late on Friday evening ready to start our two weeks of self-isolation, feeling incredibly grateful for being returned to Blighty where we had the comfort of our own home.
This virus does make me think about what is important to me and makes me incredibly grateful for the love and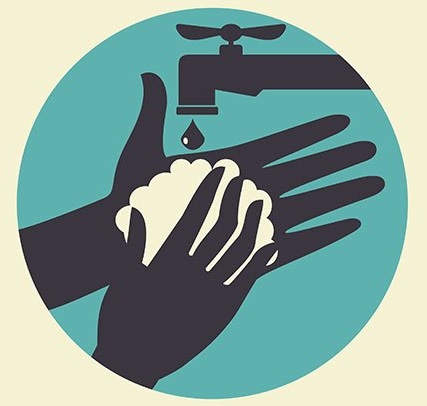 friendships that we share.
Brethren, stay in touch; look after yourselves, your families and your neighbours and KEEP WASHING YOUR HANDS!!!!
Stay safe,
Best wishes,
David Terry
Message from the WM 2nd April 2020
(This had been sent out as an email in March, but is reproduced here. Terry Fisher telephoned  Eddie to tell him that there is a plaque on Drypool Bridge with John Venn's name on it - a connection Eddie knew nothing about!)
Well Connected
I was thinking about Venn diagrams the other day – you know, those schematics with overlapping circles that show shared characteristics. I think it when I read of Steve Hastings' well-deserved Provincial honour, which is also an honour for the Humber Chapter.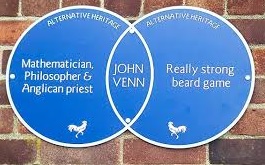 I'm not a member of Humber Chapter myself, but I am a member of the Ridings Tablers' Craft Lodge and Chapter 9586 as well as being a member of the Humber Craft Lodge 57 (the premier Lodge.) The Humber Treasurer, Terry Fisher, is currently WM of RTL, and also a member of Humber Chapter – suddenly the linkages within Freemasonry started to glow in my brain. There are connections everywhere – like Steve Hastings, our own Richard Smedley and Ian Syddall have been awarded Chapter honours, while Sergei Byelov has received honours in the Craft. Congratulations to all!
But it extends far beyond this, of course. Richard Smedley is a member of the Yorkshire Lodge in London, connecting him to Brethren down south – and when we consider the Masonic Orders supported by Malcolm Forbes, our Charity Steward, and Craig Maurier, our DC, the Venn Diagram becomes impossible for me to visualise.
Factoring in other elements (and here my brain started to hurt) the complexity is overwhelming. Each Lodge has its own internal links (in Humber 57, e.g. the Cross Brothers are father and son) but many of the members are connected in other ways (for example, with Trinity House, or as ex-coppers.)
Other links have become stronger since the Lockdown. While physical connections are currently a no-no, I'm impressed by the proliferation of Facebook messages, texts on WhatsApp and Skype along with good old email and the telephone. For those who (like me) find anything connected to a computer challenging, speaking on the telephone is an important means of linking up with the Brethren.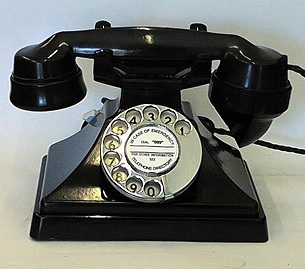 In a virtual sense we are more tightly connected than ever before. Jokes and images are transmitted electronically along with messages of mutual support and defence against the insidious coronavirus; we are reaching out to one another. I have been moved by the offers of help from Brethren in the Humber Lodge and elsewhere. I've telephoned some of the lads to check they're okay, and our Almoner has been busy contacting our Masonic widows and the Brethren. Others are doing the same.
Let me say how proud I am of you all!
Keep connected, and keep connecting!
Eddie Wildman