Coronavirus page
14th September 2020
Letter from the WM following ruling that no more than six may meet Masonically
Brethren
As expected, UGLE has advised that we comply with the spirit of the law. Until the "Rule of Six" is lifted, meetings will be more difficult than ever, I'm afraid.
However, I intend to go ahead with the second-degree ceremonies of Brother Thundercliffe in October and Brother Morrison in November. The ritual has needed some adjustment so that it can be performed by five people, but it can be done.
Inevitably it means that some who have been busy learning ritual will be disappointed, and I apologise, trusting we'll be able to hear them in action on some future occasion. In October, assuming there is no legislative reversal, Jack's ceremony will be conducted by the WM doubling as Chaplain and delivering the working tools; Bro Neil Bell as SW with the substantial ritual needed in that role plus other parts; Bro Chas Alexander as JW plus the address at the SE Corner; W Bro Craig Maurier as DC, Inner Guard and Deacons as well as delivering the Ancient Charge; while  W Bro Ian Syddall as the Secretary will double as Tyler and also communicate the secrets.
My big concern is that we don't lose touch with each other. Mark Lindsay and others are communicating on Facebook – and Mark frequently alludes to the website thereon. There's no Humber WhatsApp (yet – anybody interested?) but many of you have joined us with Zoom on occasion. Well done, chaps – keep talking!
I intend to keep our Zooms going strong (it wasn't a Humber decision to use Microsoft Team this month) and would welcome any ideas for these meetings, so that we have the opportunity for social chat and also to share some Masonry. Some of you have already enhanced our website with observations, articles and nuggets and I'm keen to have similar initiatives on the Zoom screen. We are blessed with an unflappable Zoom Master in the person of W Bro Maurier and he can usually find some way of putting ideas into practice. I have no objection to casual dress on these occasions.
Would any of our Brethren be prepared to talk to us about their lives pre-Masonry? It could take the form of an interview if you prefer. We've had a couple of quizzes already – has anyone any questions about FM that could be discussed?
I welcome your ideas and applaud your loyalty.
Sincerely and Fraternally
Eddie
4th July 2020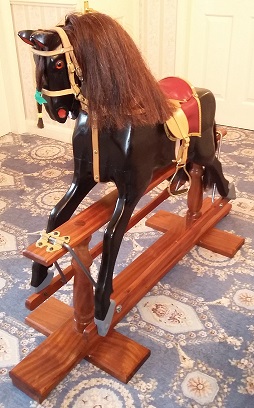 W Bro Gordon Wiles has completed the Rocking Horse! (Scroll down to 9th June for a picture of Gordon and his horse-in-progress.) He sent us a photograph of the completed project: what a delight for the grandchildren! 
I asked Gordon if he could tell us more about his project: here is his response.
My love for the horse dates back to the 1940's. My Father served in the 1st World War. He was shot straight through the chest removing a large section of flesh from his back on its way out. He survived but suffered horrendous health with chest problems.
He had my totally blind mother and five children. His daily avocation was Shire Horses. I was the young one so I shared his love for the horse. Each Sunday he would take me to the stables, select one of the Shires, promptly place me on its back and take me in town to the "HOSS WASH". During any air raid he would leave his family of five under the stairs: his priority was the Stables and the Shires. After the raid he would return home and check on the family.
Sadly in 1946/7 the Shires became redundant along with my father. The winter of 1947 killed him; he was only fifty, and myself still a child of eleven years.

That explains my love for the horse. My life has never allowed me to be involved with horses, however.
--oOo--
I found the current Lock-down worse than the war.
I had cleaned my workshop and made the decision that I was to old to use my skills ever again. Depression was coming on me.
It was my eldest Grand Daughter on the telephone who changed my mind. "Grandad," she said, "you must get involved in one of your projects."
My brain took control. You need a plan? Look in your archives! There it was, God knows how many years it had been there - I assume from when our Boys were children and I'd never had the time to produce it for them.
The Timber. I decided what I required: 'Tulip wood' this an American Poplar, and Sapele Mahogany for the stand, I rang the hardwood merchant I had used for sixty years - I'd met the current manager joining the company when I left school.
    "I'm very sorry, Gordon, we are closed; we're only preparing orders for the NHS," he said.
I told him If I did not get something to do I would soon be part of the NHS for all the wrong reasons. The boss organised special delivery to my home by 4th May.
I couldn't move the very rough large sections without Joy to help. We took our time. At our age we do not rise early or the days are too long.
Slowly, slowly we reduced the timber to our planned sizes: you cannot afford to have any waste.
Having spent most of my time in management on the phone requiring daily progress reports and with customers wishing to know when their items would be delivered, it was a pleasure to work and create without a time limit.
Hence the completed item. The perfectionist, however, is never completely satisfied: one always feels one could do better.
Here endeth my story on how to avoid the depression of coronavirus.
Peace be with you and keep you safe,
Gordon and Joy Wiles.
~ooOoo~
27th June 2020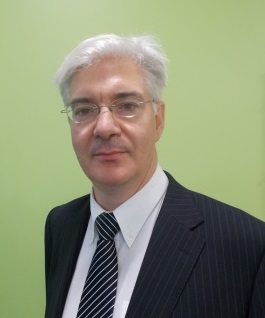 Brother Angus Littlefield and his wife Kay are particularly vulnerable and take precautions regarding the covid-19 pandemic. In reply to a telephone message, he has sent the following email, which may be of interest.
We are in total isolation: even now three months down the line, shopping goes into the shed for 72 hrs before it is brought into the house. Letters coming through the letter box too are not touched for the same length of time. 
We do think about you and our dear friends from the the Humber Lodge.
As you know Kay and I locked down on 29th February, not leaving our property and relying on three of Kay's friends to get us provisions.
Although only 8 miles east of Chester, we live in a rural environment and the supermarkets around here shockingly poor and we cannot get any delivery slots for food.
  HERE IS SOME UP-TO-DATE INFORMATION FROM THE UNIVERSITY OF THE THIRD AGE. LET'S REMIND OURSELVES!
We have all been bombarded by information and misinformation about Covid 19 for months now and it is so important to distinguish between the two. Here is a very helpful article from Johns Hopkins University in the US. It never does any harm to remind ourselves about what matters – and what DOES NOT – about this disease.
This virus is not a living organism. It is a protein molecule (RNA or DNA) covered by a protective layer of lipid (fat), which, when absorbed by the cells of the ocular (eyes), nasal (nose) or buccal mucosa (mouth), changes their genetic code (mutates) and converts into aggressor and multiplier cells.
 Since the virus is not a living organism, but is a protein molecule, it cannot be killed. It has to decay on its own. The disintegration time depends on the temperature, humidity and type of material where it lies.
The virus is very fragile; the only thing that protects it is a thin outer layer of fat and that is the reason why soap or detergent is the best weapon. The foam CUTS THE FAT (that is why you have to scrub for 20 seconds or more, to create lots of foam). By dissolving the fat layer, the protein molecule disperses and breaks down.
HEAT melts fat; this is why it is necessary to use water above 77 degrees for hand washing, laundry and cleaning surfaces. In addition, hot water makes more foam, making it more effective.
Oxygenated water increases the effectiveness of soap, alcohol and chlorine, because peroxide dissolves the virus protein. However, because you have to use it in its pure form, it can damage your skin.
The virus molecules remain very stable at colder temperatures, including air conditioning in houses and cars. They also need moisture and darkness to stay stable. Therefore, dehumidified, dry, warm and bright environments will degrade the virus faster.
NO SPIRITS, NOR VODKA, serve. The strongest vodka is only 40% alcohol, and you need a minimum of 65%. LISTERINE is 65% alcohol.
The more confined the space, the higher the concentration of the virus there can be. The more open or naturally ventilated, the less.
You have to wash your hands before and after touching any commonly used surfaces such as: mucosa (mouth area), food, locks, knobs, switches, remotes, cell phones, watches, computers, desks etc. and don't forget when you use the bathroom.
You have to MOISTURIZE YOUR HANDS due to frequent washing. Dry hands have cracks and the molecules can hide in the micro cracks. The thicker the moisturizer, the better. Also keep your NAILS SHORT so that the virus does not hide there.
Best wishes

Angus & Kay
~ooOoo~
9th June 2020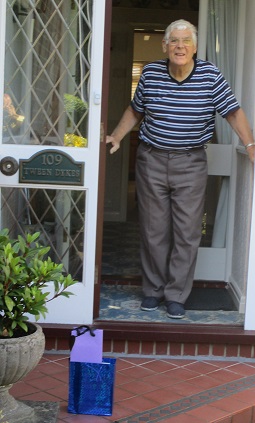 This would have been the day of our regular meeting, but even with the lock-down slightly relaxed there was no possibility of the Lodge getting together at Dagger Lane. However the date is not without significance: two of our senior Brethren merit particular mention. The Worshipful Master was pleased to organise delivery of a bottle of wine to Gordan and Joy Wiles to celebrate Gordon's fortieth year as a Craft Freemason on this day.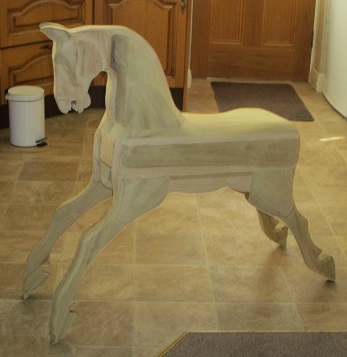 Gordon and his wife are in good form, though continuing to isolate; Joy is meticulously organising the garden, while Gordon's current project is the construction of a rocking horse which he hopes will be enjoyed by his grandchildren - and later on, their grandchildren, for generations to come.  Gordon is a Master Carpenter.
"We don't usually get visitors this early in the morning," he said, "but it is nice to see you." He posed for a photograph before picking up the parcel and card on the doorstep. "But I'm all untidy," he grumbled, "I'm not looking smart." 
Not so, Gordon. Colour coordinated and as elegant as ever, it is a privilege to congratulate you on four decades in the Craft while maintaining the necessary social distancing, and to wish you and Joy all the very best for the future.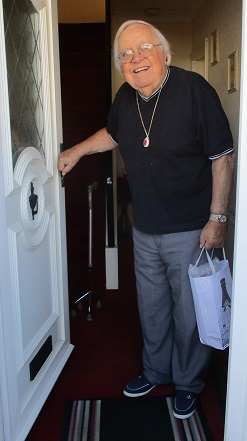 The next call was to John Proudley, one of our oldest members, who is celebrating his eighty-ninth birthday today. He had been hoping to be at the Lodge to do this, but as none of us can be there, we'll drink John's health in absentia at the Zoom Meeting.
John Raymond Proudley served in the navy and met Prince Philip, who, he has confided to the Brethren "was a proper sailor - a real seaman." He continued his career at Brough as a draughtsman at Hawker Siddeley, later British Airospace. 
He joined Freemasonry on 20th June 1966, joining the Holderness Lodge 3563, which at that time met in Withernsea. The Holderness Lodge has since moved to Hull, and John is now an honorary member. John had held various offices over the years, and received Provincial Promotion to Provincial Grand Steward in 1988. A modest and unassuming man, John was reluctant to aspire to be Worshipful Master, but was persuaded to take the Chair in 2012, Holderness's centenary year.
He received a field promotion to Past Provincial Junior Grand Deacon during that year, from the then Right Worshipful Provincial Grand Master, RW Bro Richard John Anderson. This, he confessed afterwards, had taken him by surprise. "I don't think I did anything to deserve that honour," he said.
John was a frequent visitor to the Humber Lodge 57 and became a Joining Member in 1989. He became a member of the Humber Chapter in 1996.
It was a pleasure to greet him (at two metres distance) and to ensure he picked up his bottle of wine and birthday card. We will drink your health, John, at the Zoom Meeting this evening! Many Happy Returns!
~ooOoo~
19th May 2020
Richard Smedley has been doing extensive work in the garden. Here is his account.
So what does a Mason do without Freemasonry?
Dear Brethren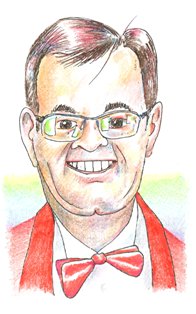 So what does a Mason do when in lockdown from his Freemasonry? There is of course a plethora of answers, and many are equally beneficial to himself, his family or his community.
In my house, the hiatus that is the Annual Provincial Convocation is immediately followed by Hessle West Open Gardens in which we participate. The open garden scheme has been run for many years around the country and raises money for a number of local and national charities. Hessle West Open Gardens consists of about twenty houses in the village who open their gardens to the public. Some of those houses not only open their gardens to view but sell refreshments, plants, ice creams or occasionally have live entertainment. Each year the event raises in excess of £8000 through entry fees and sales. Half of all proceeds each year goes to Dove House Hospice and the other half is usually split between a small group of local charities. The Scouts get a sizeable donation as each year they provide and drive their minibus around a constant circuit of the houses to aid those who can't walk round the whole village to visit those gardens on the outskirts.
So what do we need to do to achieve a garden to be proud of, or at least not to be ashamed of? Simply put – bloody hard graft!
She who must be obeyed (my good lady wife – Isabel) and I start work in January each year and finish at 10:29am on the morning of Open Gardens ready to open the gates at 10:30am, often to queuing families out early to miss the crush.
Typically my twin sons take it in turns to sit at the entrance to the garden collecting entry money whilst I perambulate around the garden welcoming visitors. Isabel, who is the font of all gardening knowledge, answers those questions beyond "Who mows the lawn?" for it is well known that my role in the garden is to only dig where I am told and only cut what has been pointed out to me. Any other action could suffer the wrath of the titans multiplied ten-fold.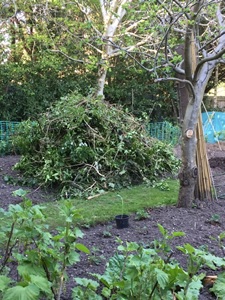 For the last two years I have been working in London during the week and only home at the weekend; the minimum work on the garden has therefore been undertaken in that period. It was apparent that the flora of the garden had snuck up on me in that time. My wife in her dulcet tones considered it to be a good move to go through the garden and remove the ivy that had surreptitiously crept up trees, along hedges and flourished in those areas less than regularly visited. I pulled at the first section of ivy and continued for the next seven muscle-tiring days, gradually collecting and piling it up for disposal. Some of it was almost as thick as my wrist. The pile continued to get larger each day until as you can see we had quite a bonfire.
The greenhouse was emptied and cleaned and prepared for an abundance of seedlings to be raised for the vegetable plot.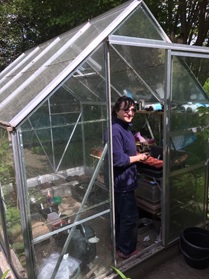 The rotovator was dusted off and the vegetable patch was dug, rotovated and tilthed. Potatoes were planted and what was once a wasteland of weed returned to an orderly and productive part of the garden.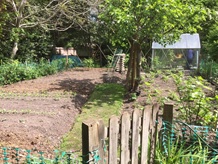 And so to the garden itself. Compost bins were emptied, mulch dug in and well-rotted manure brought a new fragrance to the neighbours. Which reminds me of a piece of corporate text I found which may amuse those in management.
~ooOoo~
~Today's reading is from the Book of Corporate Life, Chapter 1, verses 1-15~ 
In the beginning was the Plan.
And then came the Assumptions.
And the Assumptions were without form.
And the Plan was without Substance.
And darkness was upon the face of the Workers.
And the Workers spoke among themselves saying, "It is a croc of sh*t and it stinks."
And the Workers went unto their Supervisors and said, "It is a crock of dung and we cannot live with the smell."
And the Supervisors went unto their Managers saying, "It is a container of organic waste, and it is very strong, such that none may abide by it."
And the Managers went unto their Directors, saying, "It is a vessel of fertilizer, and none may abide its strength."
And the Directors spoke among themselves, saying to one another, "It contains that which aids plant growth, and it is very strong."
And the Directors went to the Vice Presidents, saying unto them, "It promotes growth, and it is very powerful."
And the Vice Presidents went to the President, saying unto him, "It has very powerful effects."
And the CEO looked upon the Plan and saw that it was good.
And the Plan became Policy.
And that is how sh*t happens.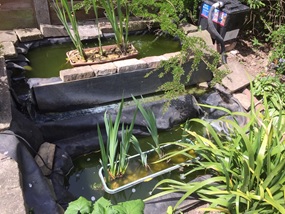 Uncannily it is also how I get to do all the less than glamorous jobs around the garden. Isabel produces the PLAN and I eventually have to follow policy. Many of you menfolk may feel some sympathy with this position!
One of the areas of the garden for which I am much maligned is my water feature. For those in the know, this masterpiece of engineering and architecture was formed out of two baths that I ripped out of the house during renovation and I couldn't be bothered taking them to the tip.
Anyway, since that day, my wife and children have always experienced much hilarity as I sit explaining to the garden's visitors what a masterpiece of sustainable engineering and recycling it is.
After several months of hard work, the day dawns that is Hessle West Open Gardens and some of my friends and Brethren I know have visited and enjoyed a glorious Spring day wandering around noseying into our gardens.
Most memorably for me in this period of meteoric calm after the storm, was the year when Isabel was almost apoplectic with rage when a gentleman who was quietly wandering around the garden was periodically seen to point and utter under his breath "WEED", "WEED". An enraged Spaniard holding it together is itself a picture to behold.
Anyway Brethren, as you all know, this year Covid 19 has put the kibosh on the social gathering that is Hessle West Open Gardens. However we have continued to work in the garden as much for our own wellbeing as the need to prepare the garden for those non-existent visitors. I hope you enjoy the photos below.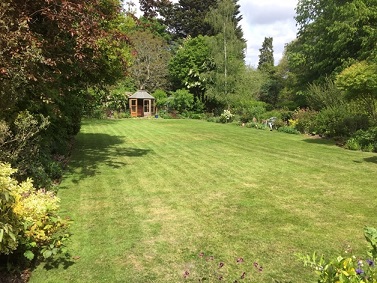 This year, many charities will have lost their funding through the difficulties of Covid 19. Those charities which we support for Hessle West Open Gardens are no different. Isabel and I hope that we can continue supporting these charities for many years to come and maybe we will see many more of you wandering around our garden next year to replenish the coffers so denuded this year.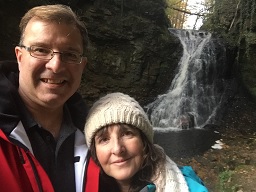 All our thoughts to you and your families
Richard & Isabel Smedley.
~ooOoo~
8th May 2020
May Day, traditionally held on a Monday, has this year been moved back four days to Friday the 8th, to coincide with VE Day, celebrating Victory in Europe, seventy-five years after World War 2 - the day when fighting against Nazi Germany came to an end in Europe.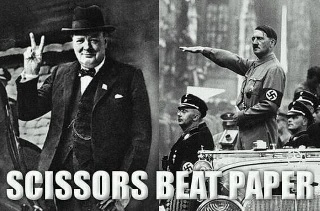 While this is not a vehicle for any political observations, I must confess I chuckled when one of our members sent a meme on WhatsApp.
This is the second time the May Day Bank Holiday has been moved - the first time it was changed from 1st May to 8th May 1995 to mark the 50th Anniversary of the event.
However, the extensive celebrations anticipated some months ago have not taken place; the Coronavirus lock-down has prevented the street gatherings and parties which might have been anticipated, and though the Red Arrows performed with Red White and Blue and suitable programmes were aired on radio and TV, the invidious prescence of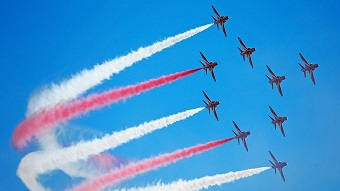 another enemy could not be ignored. Hull is not as badly affected as some other cities, but between 29th February and 24th April there have been fifty-two coronavirus-related deaths. At the time of writing, the UK has suffered over 31.000 fatalities.
Despite this, there have been celebrations for VE Day. Our Royal Arch Representative spent time with the family in the garden for a barbecue; David Terry and Marion dressed in red, white and blue and drank wine while Johny Spitfire sang war-time melodies and spent the afternoon in the garden enjoying the fabulous weather with which we've been blessed. In the early evening, I opened the front room window and played a piano selection of war-time favourites for the neighbours,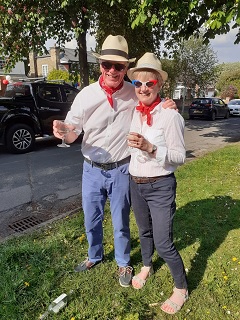 some of whom sang along. I concluded with "Land of Hope and Glory". The spirit of victory despite overwhelming odds has seemed to pervade the country, and the Queen's speech invoked the Blitz spirit, saying "We will succeed and better days will come."
Never despair.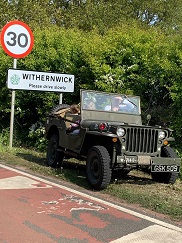 Andrew Paulls sent a photograph of a WW2 jeep that was on Omaha Beach which he'd seen in Withernwick on VE Day. It survived, he told me, because its engine failed. Andrew said he'd spent the afternoon with a few beers reflecting on that event and the parallels with the current crisis.
Richard Smedley had been labouring in the garden: he and Isobel subscribe to the Open Garden Scheme (unlikely to happen this year, alas) and was enjoying the break from work - unlike many, he is extraordinarily busy as a number of huge projects have to be completed by the end of the month. Richard's account appears above.
Phil Watts had also turned his attention to the garden. Linda told me he was very good at it.
Trevor Whitfield had decorated the outside of his house with a large union flag ("It's only a union jack if flying on a naval vessel" he informed me) and huge red, white and blue rosettes. The village had put out bunting, and though the villagers were self-isolating, there was a tremendous atmosphere. 
~ooOoo~
29th April 2020
Message from the WM
Thanks, chaps!
A brief note here to say thank you. I've spoken to most of the Brethren by telephone over the past month and a half, many more than once. Our Almoner, David Terry, is, of course, doing the same, and I know our Charity Steward, Malcolm Forbes, has been keeping an eye on things. I am so impressed by the ways you have all found to cope with the situation. Our older Brethren (and their wives) have been self-isolating, but remain cheerful and positive. Ken Graham told me he regrets the lock-down restrictions: he won't be able to attend the Lodge in June as this date coincides with his ninetieth birthday, but assured me that he and Brenda are well stocked up with food. "Everything will be different after this," he sagely remarked.
It has been a real pleasure to chat with the Brethren; and this has been reciprocated in many comments. Emoticans and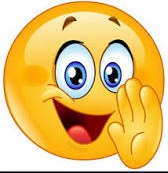 Emojis are all very well, but no substitute for a conversation. I learned about one Brother who had left food in his caravan, so when to collect it before the lock-down, another who's routine now includes walking to the village for his morning paper, and that a lighted candle in the window is a sign of Methodist solidarity.
Masonic dogs are enjoying more exercise than ever before.
Some Brethren are still working, some from home. Some are furloughed, or reduced to half time. Some are out of work and looking for opportunities (not easy in the current situation) some have been quarantined (and are now thankfully found to be virus-free.) I was given an insight into delivery problems - one Brother told me that there was a problem getting supplies out of Europe. "I ordered fifty-five lorries of Heineken the other day and they could only supply ten," he told me when I grumbled I'd run out of Fosters.
I learned about carving handrails for staircases, about singers unwillingly isolated on cruise liners, of allotments and fence painting, about the new regulations for funerals, of moving house, of watercolours and repairing bird tables. I learned from fathers about Masonic sons - and vice versa.
Let me thank those who have freely given of their time and mobility to others. There have been offers to do shopping for those unable to get out - our two recent Brothers, Jack Thundercliffe and Craig Morrison have told me that if I know anyone with a problem, they'll be happy to assist. Michael Coates and Mark Lindsay has said the same, Sergei Byelov has told me he's happy to help - I'm so proud of you all - not only those named, but others who have made themselves available, have contacted nearby Brethren and offered assistance. Sometimes a phone-call is all it takes.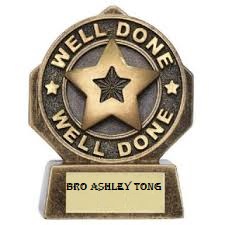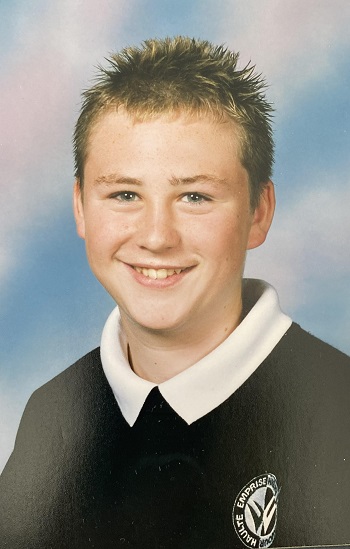 Let me conclude by saying well done to Brother Ashley Tong, who has been recognised at work for the 500+ hours he's put in as an NHS volunteer. He's been driving round delivering prescriptions when not working offshore. He's also a call-out electrician. He, too, has offered to help anyone in the Lodge should they need it. He was one of my students when he was a schoolboy - and he still hasn't changed much fifteen years later!
I'm proud, and humbled, not only to be a Freemason, but to be part of this, the Humber Lodge in particular. And it's all down to you. Thank you, Brethren.
Eddie Wildman
~ooOoo~
22nd April 2020
Message from the Secretary
This has been sent out as an email to all Brethren, but it is so important, it is reproduced here.
Looking after your Mental Health
For any of us who have been on an aeroplane, we have seen the safety message from flight attendants who urge us, in case of emergency, "put your own oxygen mask on first". They tell us to do this so that, if an emergency happens, you will be in a better situation to help other people who may be struggling.
At this difficult time, it is important to have the same focus on your mental health and wellbeing . . . especially if you're volunteering – you can't help anyone if you're not looking after yourself first. Burnout is a risk factor and, if you don't look after yourself properly, you could end up feeling stressed, anxious or overwhelmed.
Let's be honest, most of us feel a certain amount of stress regularly and, you know what, it's a natural and healthy response to challenging situations – and, sometimes, it can be helpful in motivating us to crack on and get things done. But other times, stress can overwhelm us and when this happens it affects how we cope (or don't) with our daily lives.
So it's important all the time (but especially now) that you understand how stress affects you and how you can look after yourself and manage your stress levels.
Connect – Many of us are feeling disconnected. Do what you can to keep in touch with family and friends (phone/social media). It might be you feel you don't have a lot of talk about, but perhaps use the time to reminisce or plan a get together when lockdown is over? If volunteering through an organisation, keep in contact with them, let them know what (and how) you're doing.
Active – Taking up a new exercise hobby might not be for you but building some physical activity into your daily routine is great for your mental health. It doesn't have to be a two hour workout! It can be five minutes of dancing in the kitchen, ten minutes of stretching, twenty minutes gentle walking round your block (staying two metres away from others, of course) or thirty minutes of housework (get that hoover going!) Your physical health is strongly connected to your mental health: – do more, feel better.
Check-in – Find some time to check in with your own feelings. Often we get so caught up in the 'doing' of things that we forget to think about how we're 'feeling' about it all. If you're feeling overwhelmed, take some time out to do something that works for you . . . listen to some favourite music, have a leisurely bath, read a good book or start that jigsaw that's been lying around the house for ages! Avoid alcohol to make yourself feel better – as a depressant, it can leave you feeling worse later on.
Learn – Learning can be a great way to relieve the boredom, distract from stress, build your confidence and have a really positive impact on your self-esteem. Obviously at this time it needs to be home-based but this could involve trying out new recipes or a free online course. It could be a craft (like sewing or knitting) or artier (like sketching or colouring-in) and, don't worry, no one is expecting you to be Picasso but the pleasure of self-creating is empowering for us all.
Best Regards
Stay Safe,
Ian Syddall
~ooOoo~
2nd April 2020
Message from the WM 
(This had been sent out as an email in March, but is reproduced here. Terry Fisher telephoned  Eddie to tell him that there is a plaque on Drypool Bridge with John Venn's name on it - a connection Eddie knew nothing about!)
Well Connected
I was thinking about Venn diagrams the other day – you know, those schematics with overlapping circles that show shared characteristics. I think it when I read of Steve Hastings' well-deserved Provincial honour, which is also an honour for the Humber Chapter.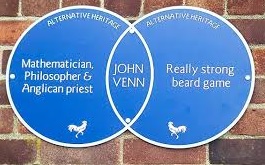 I'm not a member of Humber Chapter myself, but I am a member of the Ridings Tablers' Craft Lodge and Chapter 9586 as well as being a member of the Humber Craft Lodge 57 (the premier Lodge.) The Humber Treasurer, Terry Fisher, is currently WM of RTL, and also a member of Humber Chapter – suddenly the linkages within Freemasonry started to glow in my brain. There are connections everywhere – like Steve Hastings, our own Richard Smedley and Ian Syddall have been awarded Chapter honours, while Sergei Byelov has received honours in the Craft. Congratulations to all!
But it extends far beyond this, of course. Richard Smedley is a member of the Yorkshire Lodge in London, connecting him to Brethren down south – and when we consider the Masonic Orders supported by Malcolm Forbes, our Charity Steward, and Craig Maurier, our DC, the Venn Diagram becomes impossible for me to visualise.
Factoring in other elements (and here my brain started to hurt) the complexity is overwhelming. Each Lodge has its own internal links (in Humber 57, e.g. the Cross Brothers are father and son) but many of the members are connected in other ways (for example, with Trinity House, or as ex-coppers.)
Other links have become stronger since the Lockdown. While physical connections are currently a no-no, I'm impressed by the proliferation of Facebook messages, texts on WhatsApp and Skype along with good old email and the telephone. For those who (like me) find anything connected to a computer challenging, speaking on the telephone is an important means of linking up with the Brethren.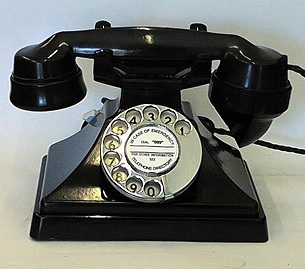 In a virtual sense we are more tightly connected than ever before. Jokes and images are transmitted electronically along with messages of mutual support and defence against the insidious coronavirus; we are reaching out to one another. I have been moved by the offers of help from Brethren in the Humber Lodge and elsewhere. I've telephoned some of the lads to check they're okay, and our Almoner has been busy contacting our Masonic widows and the Brethren. Others are doing the same.
Let me say how proud I am of you all!
Keep connected, and keep connecting!
Eddie Wildman
 ~ooOoo~
March 2020
David Terry, our Almoner, has escaped incarceration in Spain! Here's his account of shut-down in Malaga!
Malaga – March 2020
Some years ago, Marion and I found ourselves in Quito, the capital of Ecuador. We had enjoyed a week sailing around and visiting some of the Galapagos Islands and were regrouping at a hotel before taking a small plane out to a lodge on the Napo River, a tributary of the Amazon.  It would be cash only in this remote location.  This was no problem as I had plenty of travellers cheques (remember them?) and four different credit and debit cards.
The local bank and all subsequent banks we visited rejected our cheques.  We couldn't understand why. The  cashiers had plenty to say to us but our Spanish was limited to " dos cerveza por favor" !
Locating a bank of ATMs I tried my credit and debit cards, all of which were rejected followed by an unintelligible (to Marion and I) screen of Spanish text. I
t was at this point I started to panic and Marion uttered the words "This is ridiculous! I'm going to learn to speak Spanish". She was as good as her word and on her return to the UK started her education under the tutelage of Isobel Smedley!
There's no substitute when learning a language, I'm told, than to immerse oneself in the country itself. Frequent visits to Spain have been the order of the day since our Amazonian adventure.
Last year we spent a month in Malaga where Marion attended the Picasso Language School whilst I made an in-depth study of the local bars. I'm progressing, I can manage "una caña, por favor" or " una copa de vino tinto, por favor". Friends were made in the bars of Malaga old town so we decided to return this year and enjoy the spring sunshine, the fish platters and the rioja.
11th March 2020
We travelled to Leeds Bradford Britannia Hotel where we disinfected all surfaces; had probably the nearest thing to a school dinner I've had in years in the hotel restaurant (I'd forgotten what tinned carrots tasted like) and slept like a baby after partaking of "happy hour".

The flight, courtesy of Jet2, was full. Crowds of young people heading off to Torremolinos and Benalmadena in search of sun, sangria and whatever else was available!   There were also a few more elderly folk wanting to ease their aching joints in the UV rays of the Costas.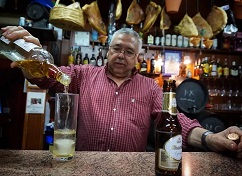 Malaga appeared fairly busy as we were chauffeured to our apartment in Malaga Old Town where we were to meet an agent who would furnish us with keys for our ground floor, one bed apartment which was to be home for the next three weeks. It had security bars on the window and no patio. No problem, we were there to enjoy the fresh air, sunshine, walks by the sea and being spoiled in the restaurants and bars.  This we did for the next thirty-six hours.  Then on the Sunday afternoon all bars and restaurants were told they must close at the end of play that day. All but essential travel was curtailed and folk were told to self-isolate.
 The trip to the small local supermarket was the highlight of the day, walking 2 metres apart for three minutes, me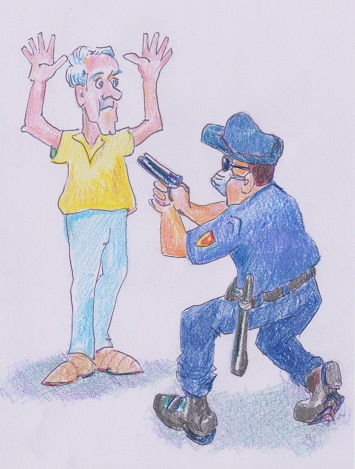 hanging around on the street corner whilst Marion was held in a small, organised queue awaiting her turn to be let into the shop.  Shelves were reasonably well stocked and there was no panic buying.
The ubiquitous police presence may have something to do with the good behaviour of the Spanish folk?
We ate some interesting concoctions, prepared on the halogen hob and microwave and washed it down with wine or beer.
We read the books we had bought at the airport and watched CNN, Sky News and some Malaga TV. The latter made me realise what a good job the BBC and ITV do.
The police drove past the window of our apartment on a regular basis, stopping people who were out and about and enquiring as to the reason for their journey. Hefty fines could be issued.
 The realisation dawned that we should return home as soon as was possible. Jet 2 sent a text stating that our return flight which was 1st April (back in time for Humber Chapter Installation) was cancelled and gave us the comfort that we would be reimbursed at some stage during the next 28 days.
They had put on repatriation flights on Wednesday 18th and Thursday 19th March. I followed the link and discovered that we could both have seats on the plane if we parted with 855 euros each! 
Wifi in an apartment is essential these days and Marion was able to book a flight on Friday 20th with Ryanair who were not profiteering to the same extent.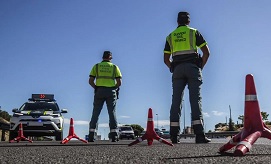 The day of departure came and we ate the food left in our fridge and waited for our taxi to take us to the airport. We waited and began to panic; made phone calls to discover our driver had been stopped by the police who had set up a roadblock. He arrived, full of apologies, half an hour late. Never mind, plenty of time to get checked in. We hadn't bargained on the roadblock on the main road heading out of town. All traffic was at a standstill. Fortunately our driver was a local who knew the back streets and we arrived at the airport in time to be checked in for the Ryanair flight.
It was interesting looking at the variety of homemade face masks that had been constructed by my fellow passengers. Mine consisted of a freshly laundered handkerchief tied around my mouth and nose in the manner I used to when I played cops and robbers as a child. Marion looked elegant with a scarf draped carefully around her neck, mouth and nose.
The flight home was only two thirds full so we were able to isolate ourselves somewhat but there was a collective flinch throughout the passengers when someone coughed. Congratulations must go to the cabin staff, who, although wearing masks, dealt with their charges in a most efficient and caring manner.
The taxi journey from Leeds Bradford Airport to The Britannia Hotel, where I had left my car, was relaxed. No lock down in the UK. Okay there had been some panic buying of toilet rolls but so what?
We arrived home late on Friday evening ready to start our two weeks of self-isolation, feeling incredibly grateful for being returned to Blighty where we had the comfort of our own home.
This virus does make me think about what is important to me and makes me incredibly grateful for the love and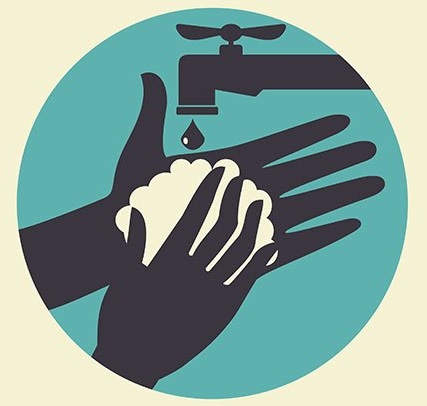 friendships that we share.
Brethren, stay in touch; look after yourselves, your families and your neighbours and KEEP WASHING YOUR HANDS!!!!
Stay safe,
Best wishes,
David Terry
 ~ooOoo~
 March 2020
Just before the lock-down, this photograph appeared in the Yorkshire Mason (which was obviously printed before the onset of the global pandemic) showing our own Junior Warden, Bro Charles Alexander presenting a cheque to the City of Hull Street Angels Charity, which looks out for vulnerable people. A tombola held during the day raised a further £600.
In these troubled times particularly we need to turn our thoughts to others: thanks, Chasa, you're a sterling example to us all!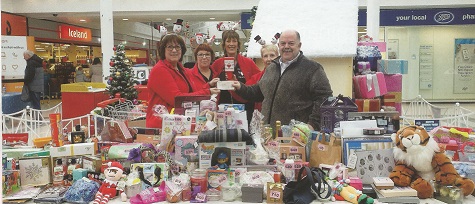 [20th March 2020]