Members Page
Read about Formula 1 test driver Jack Whileblood on the Zoom Page 8th December 2020

  ~~ooOoo~~
Read about Captain Phil Watts on the Zoom Page 29th September 2020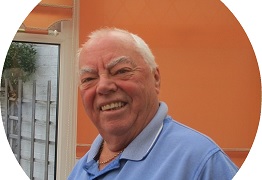 ~~ooOoo~~
The Story of an 87 Year-Old
Kenneth Leslie Graham was born in Telford Street, Hull on February 2nd 1933, the first child of Harry and Christine Graham. Here is his account, written especially for this website.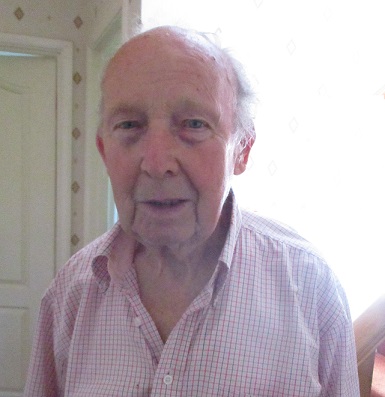 As a child I attended several Catholic schools and during the Second World War I was evacuated for safety with my brother to stay with my mother's sister in Budleigh Salterton, South Devon.
My father put labels on both our jackets when we set off on the train for Devon. However, a bomb dropped, damaging the the nearby gas works so the evacuation did not help much in that respect. It was still a case of leaving a warm bed for a cold and damp air-raid shelter.
After the war I got a job as an apprentice plumber with a local builder and got involved in all kinds of jobs, even doing work at Hull City's football grounds after a severe frost caused many burst pipes. I was called up for National Service as was normal and spent two years in the RAF. After that I returned to work and continued my hobby of cycling, particularly Long Distance and Time Trials cycling. One of my first challenges was cycling to Budleigh Salterton and back on my own. [308.1 miles.]
I eventually joined the Hull Thursday Road Club and held various positions including being the President. I also took part in in Long Distance cycling with friends to Scotland, Wales, the Isle of Man, Ireland and Stonehenge. In those days we had to work Saturday mornings, and then we set off on these trips and returned Sunday evenings.
In later years after my marriage I started my own plumbing and heating business and had people working for me. Two of the most interesting jobs I remember were doing the lead work on the 500 foot Reckitt's chimney and later laying on the water supplies on the North Bank for building the Humber Bridge.
Eventually in 2017 I decided to retire from business and was pleased that I had become a Freemason some fifty years ago so I had plenty to k
 eep me occupied in retirement.
~~ooOoo~~

Our Charity Steward, Malcolm Forbes, was born in Kidderminster, but as his father was in the military, spent the first six years of his life in Singapore, followed by a grammar school education in Streatham, London. This led to studying law in Stoke-on-Trent. Malcolm graduated in 1973 and studied for the Bar at the Council of Legal Education and thereafter lectured in Law at Hull College of Commerce, Hull College of Higher Education, Humberside Polytechnic and later at the University of Lincoln. "Towards the latter part of my teaching career I specialised in criminal law, the law of evidence and company law," he explained, "but throughout thirty-four years in the classroom I taught most areas of English law, including European Union law."
 Malcolm appeared on TV in the final of the BBC1 quiz show Masterteam specialising in Current Affairs and has also featured in the TV shows Fifteen to One, Quiz Night and Time Please.
 On retiring, Malcolm has taken up cricket umpiring, and has umpired in the United Arab Emirates every year since 2014, including Test Match grounds in Abu Dhabi and Sharjah. (See https://www.google.com/search?q=malcolmforbes-umpire&oq=malco&aqs=chrome.0.69i59l2j69i57j46l4j69i60.5709j0j7&sourceid=chrome&ie=UTF-8.) He is a member of the East Riding Cricket Umpires and Scorers Association, where he umpires matches in the York Senior League. He is also a member of three Probus Clubs. Since 2008 Malcolm has been involved in voluntary activities for MIND. Malcolm is also a member of the Thorngumbald and Camerton Parish Council.
 Malcolm joined the de la Pole Lodge 1605 in 2013 and became a member of Humber Lodge 57 in 2017. Currently he is WM in Andrew Marvell Lodge 5642. He is a member of the Chapter and other Orders.
 He keeps fit exercising his cairn terrier Sally in the wilds of Thorngumbald.
 ~~ooOoo~~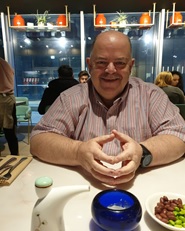 Our Junior Warden, Charles Alexander is originally from Aberdeen, but he met Jackie in a Mecca Dance Hall in Portsmouth, while serving in the Royal Navy and married in 1984. He has two children and three grandchildren.
Charles originally settled in Ellon, a lovely village north of Aberdeen. He worked offshore for various companies, including Shell UK.  "After a brief spell with Ferranti Offshore and working on the Rough Field for British Gas just off the coast of Humberside as a contract technician," he said, "I was offered a staff position as an Assistant Engineer Comms and Computing." He and Jackie moved to Hull, which is, he says, "a great place to live, I am now retired and can indulge in all my likes and pleasures one of those being Freemasonry. I also dabble in playing the Bass Guitar and my thumbs are slightly green." Another hobby is sampling beer.
  Since joining Humber Lodge 57 in 1999 Charles has become a Chapter and Mark Mason and is looking to extend his Masonic involvement in The Royal Order of Scotland. "I find that Freemasonry is a great way of staying active and keeping the grey matter in good fettle," he remarked;  "I have also made a lot of very good friends through the Craft."
 ~~ooOoo~~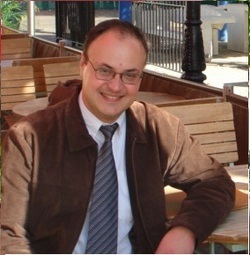 Our Lodge Mentor, Sergiy Bylov left the Ukraine for the UK when he was thirty-one. He speaks Ukrainian, Russian and French and is currently learning Italian, so it is no surprise that his work in an international packaging industry – he is a qualified internal auditor with the Quality Management System – involves dealing with people from different countries and Russian speaking customers in particular. Married to Anna, he has two grown-up daughters, Victoria and Yana.
When asked why he had decided to join the Freemasons, Sergiy said that his inquisitive nature had been stimulated by a Masonic friend in Vienna and since joining the Humber Lodge in 2002 he has never looked back. He has held various offices, becoming Worshipful Master in 2009. He is also a member of the Humber Chapter.
He has many interests, including psychology and various handicrafts, but one particular hobby is painting. "I started painting when I was thirty-nine," he said, "I just picked up a brush, opened a tube of paint, and started a canvas."
He spent a lot of time reading about methods of painting, colour theory and the history of art and has enjoyed visiting many galleries and museums. Influenced by the Impressionists, he has produced landscapes and other works which may be found on https://belov.weebly.com/
~~ooOoo~~