Carol Concert 2019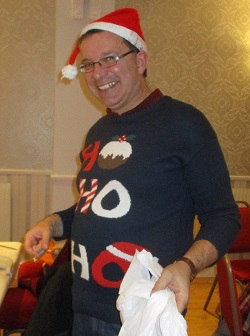 Started in 1999 by W Bro Wallace and Bro Fisher (as he was then) the annual Christmas do has gone from strength to strength. Twenty years on it is still popular: in December 2019 there were over a hundred folk in attendance, twenty children under twelve, and, in the words of the Worshipful Master, eighty-plus children over twelve. Mums and dads,  family members and friends, grandparents and babes in arms gathered in a great social and festive get-together.
The Christmas Carols upstairs, with Richard Smedley (pictured) as DC, were well enjoyed by all, especially the costumed entrance of the Three Kings (Bro Charles Alexander, W Bro Segei Byelov and W Bro Mike Potts.) The WM had relinquished the Master's Chair to play the organ instead, but gave a recitation of "The Night Before Christmas" before the final carol. Downstairs W Bro Terry Fisher (pictured) took charge: organising two quizzes  (one for the children) which took place after everyone had fed their faces at the magnificent buffet put on by Tina; feeding over a hundred people is no easy task, but nobody went hungry. Bro Mark Lindsey (pictured taking a well earned rest with his son) and Tina had laboured hard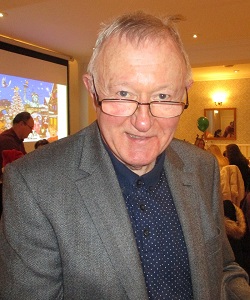 not only in organising the food, but worked with Terry Fisher and others in decorating the hall with colourful balloons - which later went to the children, but not until after a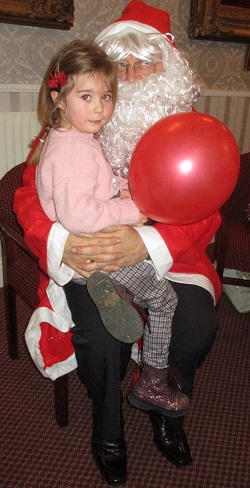 visit from Santa Claus. The Brethren congratulated Bro Ian Douglas on the way he has cultivated his beard over the last couple of months.
The finances were in the capable hands of W Bro Carl Cross, who's skill at making a profit is much appreciated (also by Connaught Court, where his "Whisky Galore" is to be augmented into a Gin Palace this year, we understand.) Bros Ian Montgomery and Malcolm Forbes did a magnificent job in persuading people to purchase raffle tickets. There was a wide range of prizes, generously donated by the Brethren (and wives.)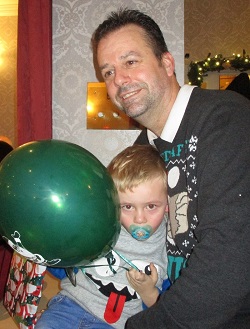 The Downstairs DC was inspired to auction the option of "Five Gold Rings" in the singing of "The Twelve Days of Christmas" and the Smedley table proved their enthusiasm at winning this privilege by producing a fortissimo rendition of the verse (it occurs eight times in the song) and getting louder on every repeat. Thank you to all who contributed, including W Bro Mike Cheeseman who started the bidding at 50p.
The author will doubtless be reprimanded for failing to remember to thank others - those who assisted in restoring the Lodge to order (W Bro Ian Syddall and others had worked well in setting up the Lodge Room to accommodate the hundred-strong gathering) but the Worshipful Master was sincere in his closing remarks when he thanked everyone for coming, and hoped they'd return next year.
Well done everybody!
Whoops! The Coronovirus put paid to a 2020 performance; let's hope that next year we'll be back to normal.