Celebrations & Regrets
Every Lodge has a chequered floor, representing the joys and sorrows of our existence on this earth. As we traverse the floor of the Lodge, it reminds us of the good and the bad times, the sad and happy events, our celebrations and regrets. This page on the Humber 57 website recalls some of the events impacting on our Lodge, both pleasurable and otherwise which deserve mention in some detail.
Eulogy for Michael Jan Phillips - 12th March 1944 -15th January 2020
W Bro David Terry, the Lodge Almoner, was asked to deliver a tribute to Mike Phillips at the funeral at St Mary's Church, Broomfleet on Thursday 6th February. Other tributes and the address by the Vicar necessitated a draconian editing of the text, and David's eulogy was brief and sincere without the explanations of Masonic conventions included for the non-Masonic congregation. However, his full version is reproduced below almost in its entirity.
--ooOoo--
6th February 2020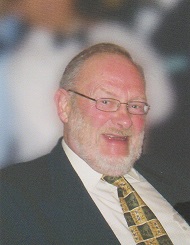 Mike was a Freemason. To many of you that will conjure up a secret society where men meet for all sorts of obscure reasons! Some individuals still think we ride around on goats in the Lodge Room!
Nothing could be further from the truth. In fact the GOAT myth probably originates from the acronym G.O.A.T for God Of All Things.
To some of its members, Freemasonry is simply a gentlemen's club but to many others it is much more. For it is an opportunity to develop the mind, to promote understanding, tolerance and charity and to bond with others who wish to improve themselves and the world we live in.
Mike was initiated into The Humber Lodge No 57 in June 1974 and remained a member for 45 years. He became a Master mason when he went through his Third Degree Ceremony in June 1976 and then spent the next ten years in various offices of The Lodge until in December 1986 he reached the pinnacle of a Freemason's career; he became the Worshipful Master of The Humber Lodge, a role which he relished and excelled in. The history of Humber Lodge with its tradition going back some 211 years was of particular interest to Mike, whom I remember submitting a well researched and expertly delivered toast to our Founders in the month of May a number of years ago.
His commitment was recognised by The Provincial Grand Master of Yorkshire, North and East Ridings, who bestowed on him, in 1994, the rank of Past Provincial Grand Superintendent of Works.
Promotion followed in 2000 to Past Provincial Grand Registrar.
This was topped in 2008 when he was awarded the honour of Past Provincial Junior Grand Warden, a rank which he held until his passing.
The allegory and symbolism of Freemasonry cannot be fully understood unless a Mason is exalted into Chapter Masonry which is comparable to a fourth Masonic Degree: Mike was exalted into this Order in October 1976 only four months after his Third Degree Ceremony.   He was keen!
Again he rose through the ranks to become a very impressive Director of Ceremonies. He was also the First Principal of Humber Chapter. The top man!
His commitment was again recognised at Provincial level when he was awarded the Active Rank of Provincial Grand Standard Bearer which involved him accompanying The Provincial Grand Superintendent (the top man in the Province of Yorkshire North and East Riding) on visits around the county.
Further honours were received culminating in the rank of Past Provincial Grand Scribe Nehemiah.
The unkind illness that Mike bore with great fortitude prevented his attendance at the monthly meetings during the last few years, this was a great sadness to him but he was mentioned every month when Humber Lodge met in Dagger Lane and a glass was raised to him and to other absent Brethren.
I was once sitting enjoying a meal at a Festive Board, which is the bun fight after a Masonic meeting. I was within earshot of the Assistant Provincial Grand Master (the third in command of our Province) when I mentioned my hobby of Freemasonry.
The Assistant PGM stopped me in my tracks by informing me, and I quote, "It's not a hobby it's a way of life".
Some years have passed since I was thus reprimanded, and I now appreciate what he was telling me.
Freemasonry was very important to Mike. It was his way of life for 45 years. He embraced the Three Grand Principles of Freemasonry.  No secret! They are Brotherly love, Relief and Truth.                                                           
Mike will be greatly missed by The Humber Lodge & Chapter. He was a true, kind and thoughtful gentleman.
There is a saying that Freemasonry makes good men better. Mike was one of the best!
 Notes by David Terry
 --ooOoo--
 Eulogy for Robert Edwin Clarkson - 6th March 1933 - 26th December, 2016
and eventually 26th December, 2019.
22nd January 2020

At the Crematorium, Bill Burnett, who delivered the eulogy below, asked Margaret, Pam and Carl to stand and turn around. Showing them that the place was packed, he remarked "All of these People have turned out to support you and show how much they loved and respected Bob. Thank you." His eulogy follows.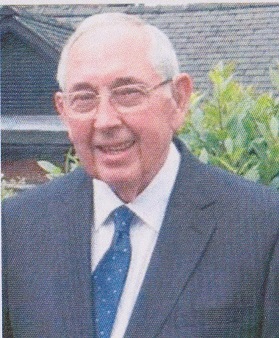 Bob was born on the 6th of March, 1933, the eldest of 6 children. Very few people had television in those days !!

Bob won a scholarship to the Riley High School where he passed the Northern Universities Schools Certificate in seven subjects.

Bob had always loved the Navy and had been a Sea Cadet. In order to ensure that he would go into the Royal Navy for his National Service he joined the Royal Naval Reserve on his 17th birthday.

Bob did his two years National service in the Royal Navy, passing out top of his class in training. He later qualified as a Torpedo and Asdic Control Rating.

Whilst on leave from the Royal Navy Bob met his first Wife, Betty, at a dance at the City Hall. Their friendship blossomed and as Bob settled back into Civvy street he joined the Hull City Police in August, 1953. Bob and Betty married and had one daughter, Pamela. Shortly after Bob retired from the Force, Betty passed away having fought cancer for many years.
Bob initially worked on foot beat patrols from the old Eastern Division at Crowle Street.

He worked in many departments across the City but will be remembered by many for his time in the Force Training Department, in particular for his responsibility for Cadet Training.

As a fresh faced 16 years old I joined the Hull City Police as a Cadet, straight from being educated by Nuns and Priests and being a Church Choir Boy. Imagine what went through my head when I met this gruff, bulled up to the nines PC, who politely introduced himself to me saying, " My name is Clarkson, spelt B.A.S.T.A.R.D. get your haircut!". I duly reported for my first training day at East Hull Baths. Bob asked me how far I could swim. I told him that I couldn't . He was incredulous. He threw one of those old cork kick boards at me and told me to get in at the shallow end. I was terrified of this guy, so much so that I swam a length within the hour. Bob then shouted for everyone to get out of the water and dive off the top board. I duly lined up with everyone else and will never forget Bob screaming at me as I sailed through the air like a house brick, "Not you, you bloody idiot, you can't even swim properly". I hit the water with a belly flop that could have won a place in the Guiness Book of records. Much later in my career when I was working in the Training Department and got to know the real Bob Clarkson, he confided in me that he had fashioned his Training Persona on a Whale Island Gunnery Instructor that had once terrified him whilst on a course. Bob always had the highest of standards and he imparted those standards in everyone that he trained. Hundreds, probably thousands, of Police Officers owe the standards that they live and work by to Bob's training.

Bob had a passion for Military Music and was a Member of the Police Band for 35 years, the last 12 years of which he was their Drum Major. In later life I had the pleasure of taking Bob to see the Edinburgh Military Tattoo. He was in seventh heaven even though it was raining heavily. Sometimes being a JP has it's advantages, we were fortunate enough to get tickets to the trooping of the colour. He loved it and took great joy in telling me what the troops were doing and what they would do next.

Bob had many interests of which Judo was one of his favourites. He was a qualified Judo Instructor and for many years ran a club at the Newland Homes.

One of Bob's other passions was swimming and in particular the Royal Lifesaving Society. He was an Advanced Teacher of the Amateur Swimming Association and held every Lifesaving award of the Royal Lifesaving Society, up to the Distinction Award. The Royal Lifesaving Society rewarded Bob for all of his work in the Community by awarding him Honarary Life Membership of the Society, a 50 years service Medal, the Medal of Distinction and the Medal of Honour.

Upon retirement from the Police Force Bob went to work in the Leisure Industry and ended up as Senior Assistant Facilities Manager at the Haltemprice Leisure Centre.

During this time at the Haltemprice Centre, Bob met his second Wife, Margaret. They married in 1987.

Although retired for a second time, Bob worked with Margaret teaching Primary School children in Hull ,the National Curriculum Key stage 2 swimming and Water Safety Scheme. The Hull scheme was Ofsted's model of best practice nationally. This was a massive achievement and due in no small part to Bob and Margaret's hard work.

In December of 2016, whilst on holiday with Margaret, Bob suffered a massive Cardiac arrest. Fortunately Margaret was by his side and performed CPR on him. Bob was resuscitated and after many months of care by Margaret was able to start living a normal life again.

I proposed Bob into Freemasonry and he was initiated into the Humber Lodge No 57 in April, 1998. He was made a Fellow Craft in May, 1998 and eventually made a Master Mason in March, 1999.

Within the Humber Lodge Bob held many Offices over the years. He held the offices of Junior Warden, Senior Warden, Mentor and perhaps a role that he made his own – the Lodge Director of Ceremonies. He became the Master of the Lodge in December, 2004. The Provincial Grand Master saw fit to invest Bob as his Provincial Grand Sword Bearer and subsequently promoted him to Past Provincial Junior Grand Warden.

Bob was an enthusiastic Member of Knight's Templar for a number of years.

Bob was also a Member of Humber Installed Masters Lodge and held the Offices of Junior Deacon and surprise, surprise, Director of Ceremonies.

Bob was a member of the Humber 57 Royal Arch Chapter. He was exalted in November, 1999. He held several offices in the Chapter and took the Chair of Zerubbabel in May, 2008. Bob was also a Member of the Humber Installed Principles Chapter until ill health forced his retirement.

We mourn Bob's passing but at the same time celebrate the time we shared with him. Bob took good people and made them better. I just hope that the residents of the Grand Lodge above have had a haircut and bulled their boots !!!

Bob is survived by Margaret, his wife who nursed him selflessly throughout all of his illness; his children, Pamela and Carl, their Spouses, Jack and Sam (a Lady), his Grandchildren Robbie, James and Kacie Leigh, his great grandson Daniel and great granddaughter Elsie.

Pax Vobiscum Bob, you are and will be missed.

Anecdotes

On my first training day as a Police Cadet, I had to report to the East Hull swimming Baths. Bob asked me how far I could swim. I told him that I couldn't. He was incredulous! He picked up one of those old cork float kick-boards and threw it at me. He said "get in there", indicating the shallow end. I was terrified of this guy. So much so that within an hour I swam a length. Bob then shouted for everyone to get out of the water and dive off the top stage. I duly got out of the water and lined up with everyone else to go off the top board. I can still hear him screaming at me as I sailed through the air like a house brick, " Not you, you bloody idiot, you can't swim properly." I hit the water with the biggest belly flop that had ever been witnessed at East Hull Baths.

Blackpool RLSS Conference. Bob's alarm going off at 0230hrs woke him up and I told him to switch it off. - He fumbling on the bedside table whilst apologising, and then  swore at me and said that he didn't even have an alarm – alarm still going off – he got out of bed , looked out of the window, climbed back into bed and nonchalantly announced that it was the Hotel fire alarm – I jumped up and shouted that we had better evacuate the building – him " Will you stop shouting, I'm trying to get some sleep" he rolled over and went back to sleep. Fortunately it was a false alarm.

I had the great pleasure of working with Bob at the old Police Training Unit – Legoland. Bob was always a miserable beggar in a morning but you knew when he was driving over Drypool Bridge on his way into work. He would have his windows rolled down and the Band of the Royal Marines would be blasting out something suitably stirring. He would sit in his car on the car park until the tune had ended I might add that he would still have his windows rolled down.
Notes by Bill Burnett
--ooOoo--
50 Years in Freemasonry: W Bro Winston Pannett
Tuesday 14th February 2012
On 12th December 1961 Winston was initiated into the Whitwell Lodge 2104 in Stockton-on Tees, in the Province of Durham.  As his father was a member of the same Lodge he was, of course, a Lewis.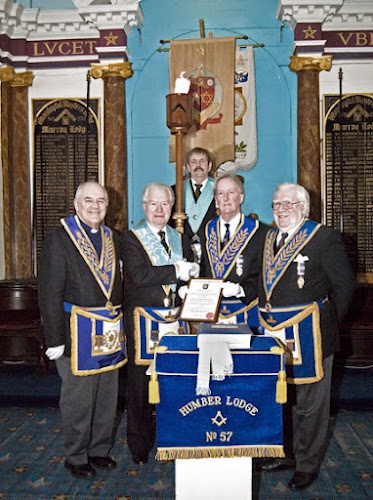 In 1967 his father was elected W. Master of the lodge. In 1974, only seven years later, Winston was Installed into the Chair; his father at this time held the office of Secretary. Winston's father-in-law subsequently joined the Lodge making a happy family trio.
Winston was exalted into the Whitwell Chapter in February 1965 and became MEZ in 1978. He was also a member of the order of the Secret Monitor joining the Harte Conclave No 47. He was Supreme Ruler in 1976.
Winston moved to Kingston upon Hull in 1976. He became joining member Humber Lodge No 57 in November 1977 being proposed by Clive Naylor and seconded by Sydney Gibbs.  During his long service with this Lodge Winston has held office as Steward, Almoner, and Chaplain; he has also served with distinction in the office of Treasurer for a number of years.
Winston received Provincial honours in Durham in 1980 when he was made PPGStB. In 1995 he was promoted to PPJGW in the Province of Yorkshire North & East Ridings. 
Winston is also an active Member of Rotary and was President of the Rotary Club of Humberside in1996. He was awarded the Paul Harris Fellowship in 2003in recognition of his services to Rotary International.  Many readers may have felt the hand of Winston on their shoulder asking them to be a guest speaker at there regular meetings.
Winston was born 1937  in Stockton on Tees and was  educated at Holy Trinity Boys School and Grangefield Technical College.
He served in the RAFas a Radar Operator stationed in the wilds of Scotland.
On leaving the RAF Winston became a Procurement specialist for a large retail chain a task at which he excelled and subsequent promotions lead to the Move to Hull as Store Director of Willis Ludlow Hull. He set up his own gentleman's outfitters in Hessle in 1979, retiring in 2006.
Winston is married to Ann, and they have just celebrated their Golden Wedding, they have three children: Kathryn, Simon and Victoria who are now living in London /Derby and New York. They have two grandchildren.
On 14th February 2012, at the regular Lodge meeting, WBro Christopher Sharp PGStB., made a presentation of a 50-year certificate on behalf of the Provincial Grandmaster. Also in attendance were two Grand Lodge officers from Lincolnshire, WBro Rev Ian Walker PAGChap, the Provincial Grand Chaplain for Lincolnshire, and W Bro Chesney Brocklesby, PGDC. After an informal interview in the body of the lodge, the certificate and pin were presented and acclaimed by all present.
Notes by Terry Fisher
60 years in Masonry: W Bro Dr Clifford Leslie Jones PAGDC 
Saturday 19 November 2011
On 19th November 2011 the Deputy Provincial Grand Master of Yorkshire North & East Riding, Very Worshipful Brother Jeffrey Gillyon was joined by Brethren of the Humber Lodge 57 and their Ladies at Connaught Court in York. This special occasion was to mark the presentation of a 60 year Certificate and Jewel to W.Bro. Dr Clifford Leslie Jones, PAGDC.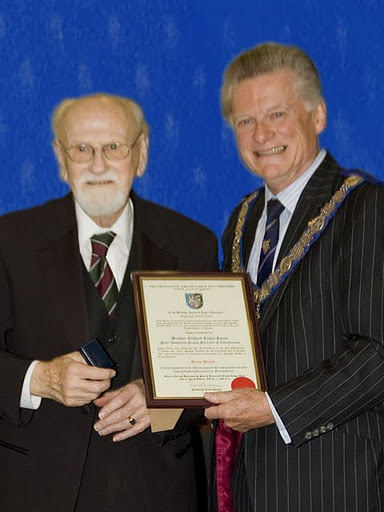 VW Bro Gillyon gave a very informative overview of the life and times of our Lodge Father, which was interspersed with amusing anecdotes from W Bro Cliff.    
Cliff was born in London 18th August 1926.  He received his education at Quintinians School followed by Degrees in Chemistry and Physics from London and Reading Universities.  A PhD from an American University acknowledged him as one of the world's foremost authorities on his specialised subjects of waxes and resins.
Later, as a Director of Reckitts his real expertise it would seem was in soft soap, a point not lost on those who knew him well.
An faithful and active member of the church, he has been Secretary of the Lay Readers Association and chairman of a special committee appointed by the Archbishop of the time to deal with matters of finance within the diocese.
As a young man he was not only a Boy Scout but County Commissioner for Middlesex, in charge of Scoutmaster Training.
Cliff was very happily married to his wife Peggy, who sadly died several years ago and he felt her loss terribly. Always an active and caring member of the community, after Peggy died Cliff devoted much of his time counselling recovering alcoholics and drug addicts.
Cliff and Peggy were blessed with two children, Martin and Elizabeth.  Martin is a Captain in the Royal Navy and his wife Joan is a senior officer involved in Environmental Protection; she often briefs government ministers. They live near Southampton and have two children. Elizabeth is married to David and they also have two Children. Liz is a maths teacher in a local school on the outskirts of Hull. 
In his long Masonic career Cliff has achieved wide acclamation; in particular he is remembered as an erudite and excellent orator and lecturer.  His masonic career is as follows:
1951      Initiated into Old Quintinians Lodge No 3307
1963      Companion of the Holy Royal Arch – Old Quintinians Chapter No 3307
1976      Knight Companion of the Red Cross of Constantine – De La Pole Conclave No 132
1976      Knight of the Holy Sepulchre and Knight of St John the Evangelist - De La Pole Conclave No 132
1977      Mark Master Mason – Humber Lodge No 182
1991      Knight Kadosh 30o of the Supreme Council of the 33o
In 1967 he was elected as Master of Old Quintinians Lodge No 3307 and between 1977 and 1993 was the Lodge Chaplain.  In 1967 he was also installed as the MEZ of Old Quintinians Chapter no 3307. In 1979 he became the MEZ of Humber Chapter No 57.
1980 saw him installed in the chair of the Ancient York Chapter of Redemption, and in 2005, at the age of 79, he became the Master of Humber Lodge No 57.
Cliff holds Grand and Provincial Grand Rank in Craft and Chapter:
 Past Assistant Grand Director of Ceremonies (PAGDC) - Craft     -      1998
 Past Assistant Grand Sojourner (PAGSoj) - Chapter                    -        1996
 Grand Standard Bearer (GStB) - Chapter                                   -          1988
 Third Provincial Grand Principal (3rdProvGPrin, Yorks. N&ER)     -       1991
 London Grand Rank (LGR, MetGL, London)                               -          1986
At the end of the presentation, the Master of Humber Lodge, W. Bro. David Terry thanked VW Bro Gillyon for agreeing to present W Bro.Cliff with the Certificate, and for such a wonderfully told life story.  He also thanked all those who had taken the time to mark this a special day, not forgetting the staff of Connaught Court, the York RMBI residential home. The presentation was concluded with group photographs and a buffet lunch.
A very good and enjoyable time was had by all, especially W Bro Cliff who could not understand why so many people had bothered to come and celebrate this landmark.  Only Cliff could be so genuinely and generously modest.
Notes by Terry Fisher