Welcome
 Humber Lodge Officers 2019 - 2021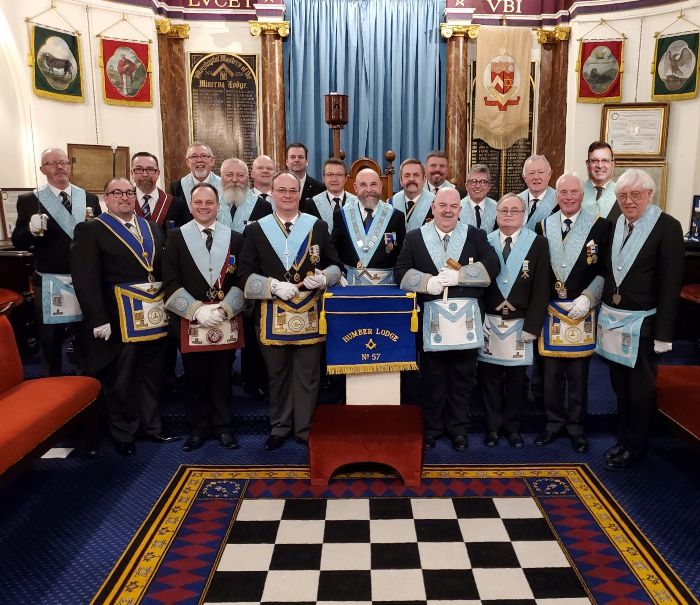 (Check out the names at the bottom of the page; photograph taken before social distancing was an issue)
The Humber Lodge meets on the second Tuesday every month of the year, at
the Masonic Hall, Prince Street, Dagger Lane, Hull HU1 2LU. (Click the address for link to map.)
The Masonic Hall is on the corner of Prince Street and Dagger Lane.
  Parking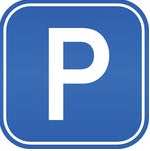 There are some parking bays available in Princes Dock Street, South Church Side and Humber Dock Street (all pay & display until 6pm, then free). There is no parking on Dagger Lane itself (unless blue badge, then limited to 3 hours) nor on Prince Street. There is also parking at the nearby Princes Quay shopping centre which is open 24 hours. 
NB ~ Parking Enforcement  Officers are very keen in the Old Town area!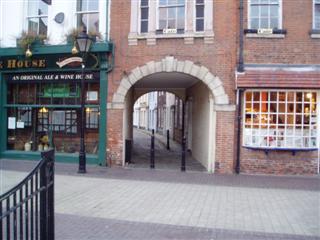 Access to the Lodge from the South Church Side direction is via the pedestrian archway, (pictured) adjacent to the "Head of Steam", previously "King's Ale House", in Hull Minster Market Place; this leads through onto Prince Street. The Lodge building is situated at the top of Prince Street on the left (middle picture) or for the kitchen entrance, from Dagger Lane. The Masonic Hall is the corner building where Prince Street and Dagger Lane meet.
Regular meetings commence at 6.30pm, the Installation evening in December begins earlier. (To avoid disappointment contact the Lodge Secretary to confirm the Installation start time and reserve a meal: secretary@humber57.org.uk )

 The bar is open both before and after the Lodge meetings. If you wish to sample the very reasonably priced alcoholic beverages, you are advised to book a taxi, or organise a delegated driver (the bar has plenty of soft drinks too!)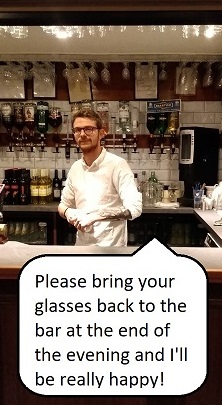 Jake the Barman is always happy to serve. 

1 Carl Cross, SW; 2 Ben Rose (representing the RWPGM), 3 John Wheeldon, (DC for the Rep),
4 Ian Syddall, Secretary; 5 Craig Maurier, DC; 6 Ian Douglas, Steward; 7 Tony Weeks, SD;
8 Sergei Bylov, Mentor; 9 Mark Lindsay, RAR; 10 Andrew Paulls, Inner Guard;
11 Eddie Wildman, WM; 12 Mike Potts, ADC; 13 Craig Fish, JD; 14 Charles Alexander, JW;
15 David Field, Asst Sec; 16 Stanley Smith, IPM; 17 Terry Fisher, Treasurer;
David Terry, Tyler, Almoner; 19 Richard Smedley, Chaplain;
20 Malcolm Forbes, Charity Steward.